Butanes except as noted in the Repair Section for VaraFlames.
Repairs to most modern lighters that can be sent to the manufacturer for factory service.
Repair of leaking push button valve seals on Scripto Vu Lighters– but I have spark wheel assemblies and other parts for them.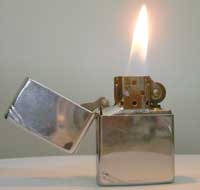 Zippos– send them to Zippo for free repair – if it is a collectible piece include a note asking that they attempt to repair it using it's original bits and if they can't to please send the original parts back when they return the lighter to you and they will handle it as a special piece- a service they have been providing for collectors for a number of years now- though I have no personal experience of this, my son has sent a couple in and received prompt repairs.
Paint – I don't paint any more than necessary for special projects.
Please don't send me the family heirloom hatpin holder- I am about lighters and other tobacco related bits and pieces.