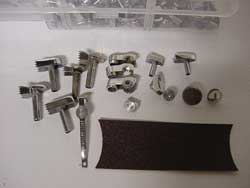 A word about parts – My parts collection is varied and extensive- from original factory parts for the Ronson Banjo and Delight models, original factory leathers for the first generation Delight with oval monogram shield, to a large assortment of 1940s-50s European lighter models, to almost everything to repair the millions of Ronson pocket and table models made from 1946 on.
I also have a fair assortment of Evans Banner bits and pieces to put them back into working order.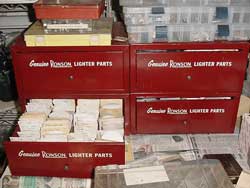 As a general rule I DO NOT sell parts, I fix lighters- and since most of the parts for these pieces have not been made in the last 50 years or so- those of us who do repairs are limited to the stock we have on hand- when our parts run out we'll need to find something else to do. The exception would be non-operating parts- wicks, flints, the odd filler gasket and or screw- no sense sending me a Crown or Queen Anne when you need a filler screw or gasket- postage would be more than the part!
I do not sell Banjo or Delight parts as they are extremely rare and are reserved for lighters that meet MY criteria for condition and collectability- and therefore worth being rebuilt.
Finally – I only use genuine Ronson parts. There were aftermarket parts produced in the 50's that are inferior in quality and function. Don't let anyone repair your lighter with random bits!